Celebrating Women Breaking Down Barriers Across The Industrial Sector
The industrial sector has been a male-dominated industry for a long time, but over the past few years, many women have been entering this space and making a name for themselves. We think this International Women's Day is the perfect time to reflect on and acknowledge all the great work that women have been doing in the industrial sector. This year we are focusing on the ways they are making this space inclusive for all the women who will follow them.
The Women Who Are Breaking Down The Barriers
There have been countless women throughout the past few decades who have been doing a remarkable job at breaking down the barriers, preventing many women from entering male-dominated fields and industries.
Thanks to the outstanding work of these passionate women, now many have the chance to thrive and make a name for themselves in a space that previously would have been difficult to even enter.
The Women In Industry Awards do a great job every year in celebrating and giving recognition to the Women who are doing fantastic work in making a difference in their field.  
A task force of the International Solid Waste Association called Women Of Waste (WOW) has been making it their mission to create a global network of women to highlight the real and discriminatory challenges that women in this industry face, while simultaneously showcasing all of the phenomenal work women within the industry are doing, to make it a better place to work and more inclusive space to be a part of.
Managing director and co-owner for The Austrans Group — who are proud to uphold international standards — Kylie Fisher understands first-hand what it takes to make it in a male-dominated industry. 
"You certainly have to be resilient in a male-dominated industry," she said. 
"It's important to have humility, and realise you're not going to know everything. Sometimes you'll make a fool of yourself. You have to be willing to fail." she added.
"There have been many times that I felt being female gave me a special kind of understanding and empathy."
"For me, it's about developing young women to forge a career in the waste industry and in business generally. I found it tricky initially, but thanks to some of my colleagues and those before me, there are some terrific pathways available for the next generation of women. There are some remarkable women in the waste industry. Sharp female role models, who work in exciting areas like regulated waste, dangerous goods and organics. There are many avenues for young women to develop their skills and find success."
Kylie also added that she hopes to see an increase in women working throughout the entire industrial Services sector. She thinks the best advice for any women new to the industry is to. "Back yourself, make connection with other women. In particular, the ones with whom your values align."
"A resilient woman is someone who isn't afraid to fail," she added.
Kylie also has a passion for encouraging and inspiring young women. "I find great joy in developing other enthusiastic young people and celebrating their achievements. I love to hear their story, find out their skillset and encourage them to be the best version of themselves." she said.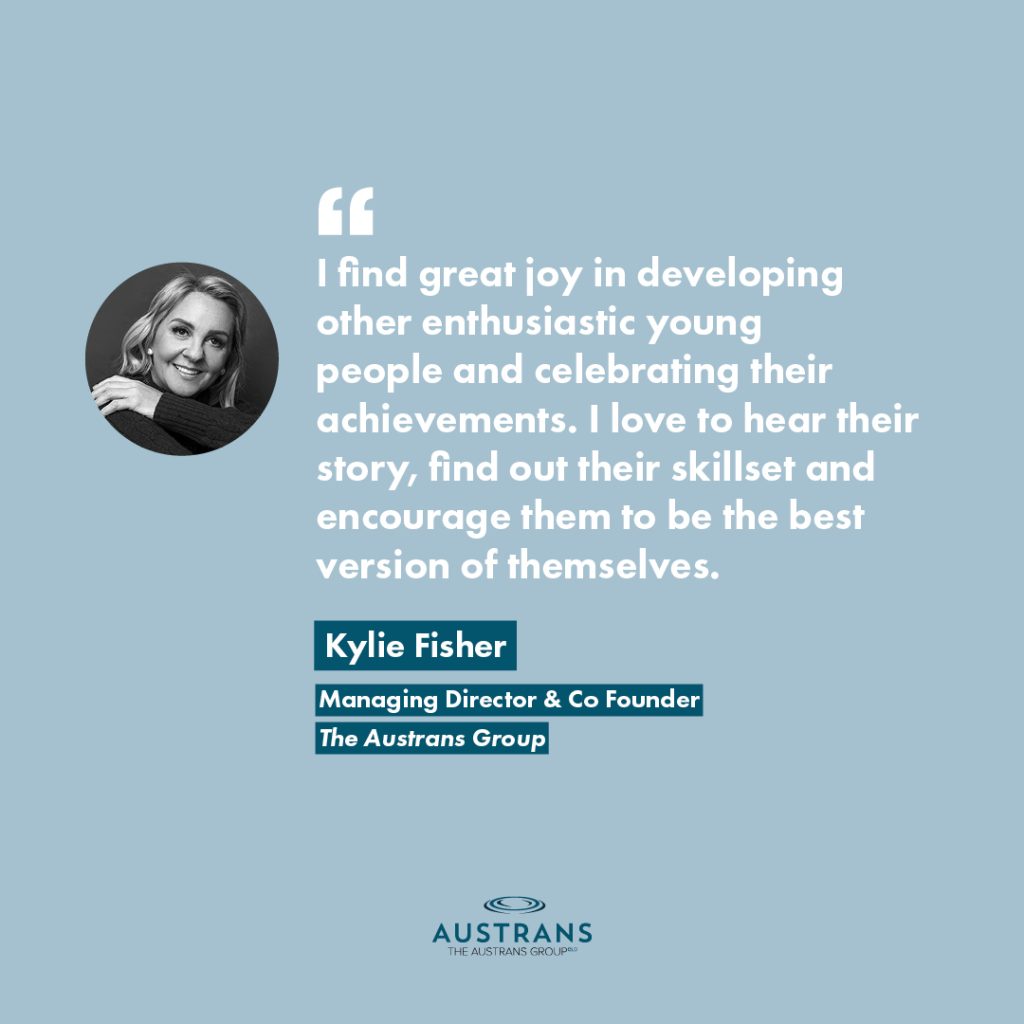 "Because it's really an exciting and growing industry. It's much different today than what it was when I first joined. There's a lot more exciting and vibrant young women in the industry, and there's plenty of organisations, now to support women, the diversity brings a richness, and exciting career opportunities." she said.
Meet The Experts In Resource Recovery And Recycling
Established in 1999, the Austrans Group is proudly Australian owned and operated, and is now recognised as an industry leader in hazardous waste management, industrial services, project management all over South East Queensland. 
From public infrastructure to assisting in massive environmental rehabilitation and providing complete disaster recovery support, Austrans Group have done it all, and have the expertise to get the job done.
At every stage of business we have made our passion for sustainability a focus. If you want to collaborate with a team that values to importance of sustainability and deeply cares about the environment and community, get in touch with us today and we can work towards building a rewarding partnership.